Meet Jennifer Smith of Jenn B Quilts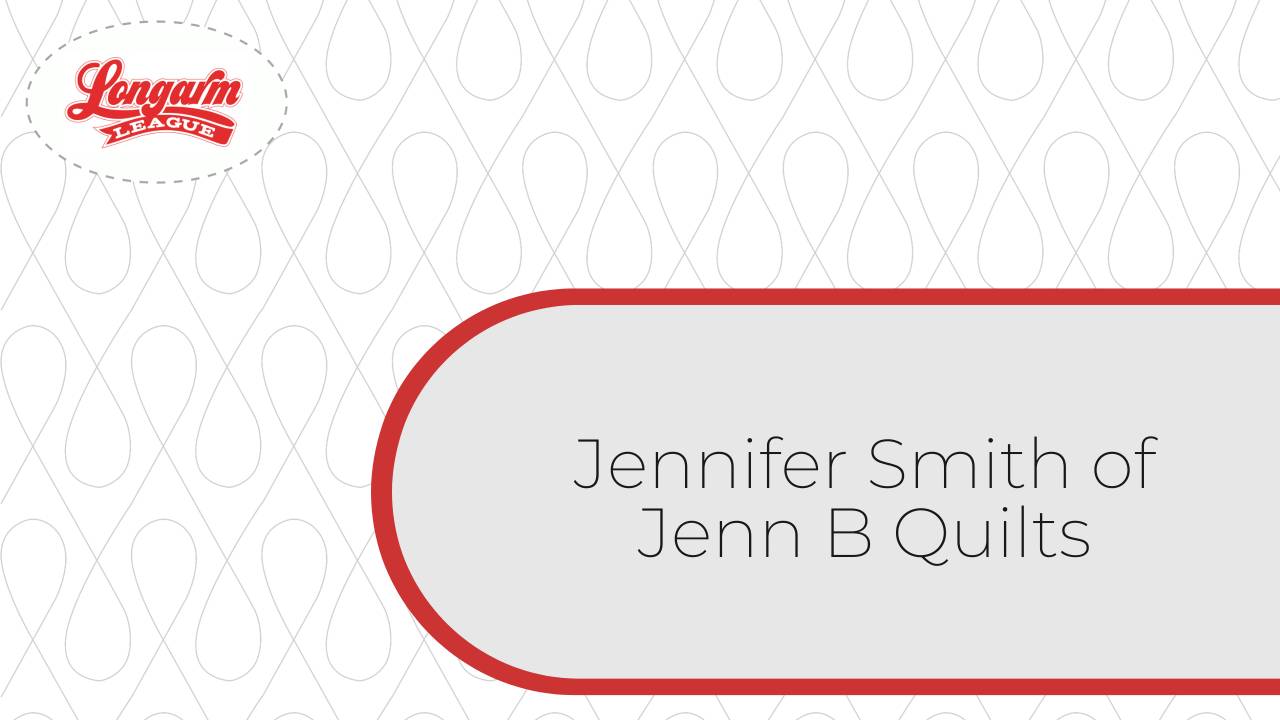 Each month in the Longarm League, we hold a coaching call with one of our members to talk about their business. This month I sat down with Jennifer Smith of Jenn B Quilts. We talked about meeting and quilting for popular designers, finding new ways to manage a busy household after starting a business, and ideas for continuing to attract new clients.
While League members have full access to the recording of the call, we asked Jenn to share a little more about herself and her business with our blog readers.
Without further ado, let's meet Jenn...
Jennifer Smith, Jenn B Quilts
Located: University Place, WA
In business: 2 years
Machine and software: Gammill with Intelliquilter
In the Longarm League: 2 years
Where to find Jennifer
Website: https://www.jennbquilts.com/
Instagram: @jennbquilts
Facebook: jennbquilts
Best way for someone to contact you for quilting? Through my website. You can request quilting using my form, or if you need to reach out, I have my email as well as a contact form on my site.
Q&A
Tell us a little about your business and the services you provide at Jenn B Quilts.
I offer computerized edge to edge, basting services, and binding services. I also sell batting.
Do you have any advice for someone just starting out with their business?
Think about all that's entailed in the business- taxes, advertising, maintenance. I knew it would be a lot, but I didn't have a full understanding until I was in it. Also think about how often you want to quilt and if it's replacing a current day job, if it's going to be a part time job, or if you're just looking to do quilts here and there. Be prepared for some work to get your name out there if you want it to be a full time, decent paying job. It's still taking me time to get my name out there- a bit longer than I thought it would.
How did you get started longarm quilting?
I took a longarm class Spring of 2021 and loved it. I started looking for a used machine nearby thinking it would take awhile. I ended up finding a great one nearby pretty quickly. So I quickly signed up for Rookie Season and jumped in!
Could you tell us about a business "win" you've had?
I recently quilted up Suzy Quilt's newest cover quilt (below). I had quilted a few others for her before, but this was the first one that was a cover for her new pattern.
What quilting designs have you been loving lately?
Marmalade is still my overall favorite. I also really like Ribbon Candy Pearls.
What is your favorite notion for longarm quilting?
SewTites Magnums for loading. And my Gammill clips for securing the top to my front bar (I float the top).
What's your favorite part of making a quilt?
For my quilts I love piecing. I love trying to for perfect points and tidy pressing.
Favorite snack while sewing?
Salted Caramels by Bequet (costco sells big bags- they're trouble)

What other hobbies do you enjoy aside from quliting?
Traveling with my family (husband, two girls ages 14 and 11, and a crazy Boxer dog) and being near the ocean (water is my favorite place).
If you'd like to watch the call with Jennifer, or are interested in being a guest, we'd love to have you join us! Whether you're interested in starting your own longarm quilting business, or wanting to improve your current business, check out our Rookie Season course! You can see all the details, read about how the course has helped previous students, and get started here.
Thanks so much for talking with us this month Jennifer!